About
Kemp Strings are the brand new concept in guitar string design allowing for equal sensitivity for tremolo arm movements and for conventional pitch bends. That means in tune chords can be bent on the four lowest pitch strings. The first ever 100 sets of electric guitar strings, optimised for standard Strat® are being released in June 2019 and these can be purchased, while stocks remain, from the online shop kempstrings.com. Please also see the Frequently Asked Questions (FAQ) page for Kemp Strings.
Strat® is a registered trademark of Fender Musical Instrument Corporation (FMIC). Kemp Acoustics is not affiliated with (FMIC).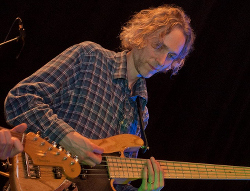 Dr. Jonathan A. Kemp is a physicist and musician working at the University of St Andrews. His recent work involves the pitch sensitivity of guitar strings to player control and has resulted in a sets of guitar strings that bend in tune on four strings with tremolo arm use and is the subject of a PLOS One journal paper, an international patent application through the University of St Andrews, UK (International Patent Application No: PCT/GB2018/050296) and commerical release through kempstrings.com.
He completed his undergraduate degree in Physics with Music at the University of Edinburgh in 1998 (featuring an honours project on piano string inharmonicity supervised by Dr. Raymond Parks) before completing a PhD thesis, Theoretical and experimental study of wave propagation in brass musical instruments under the supervision of Prof. Murray Campbell and Prof. Clive Greated in 2002. Jonathan has teaching experience at the University of Edinburgh, the Open University, the University of Abertay, Dundee and the University of St Andrews. He has been working full time in Music and Physics at the University of St Andrews since 2011, teaching, supervising the electronic music studio and conducting research.
Jonathan plays:
Bass for Teannaich Rock Ceilidh Band
Guitar and is bandleader for St Andrews Fusion
Guitar with Bothy Ballad singer Scott Gardiner

Beethoven Lodge, 65 North Street, St Andrews, Fife, KY16 9AJ
+44(0)1334 46 2145
jonathan@kempacoustics.com